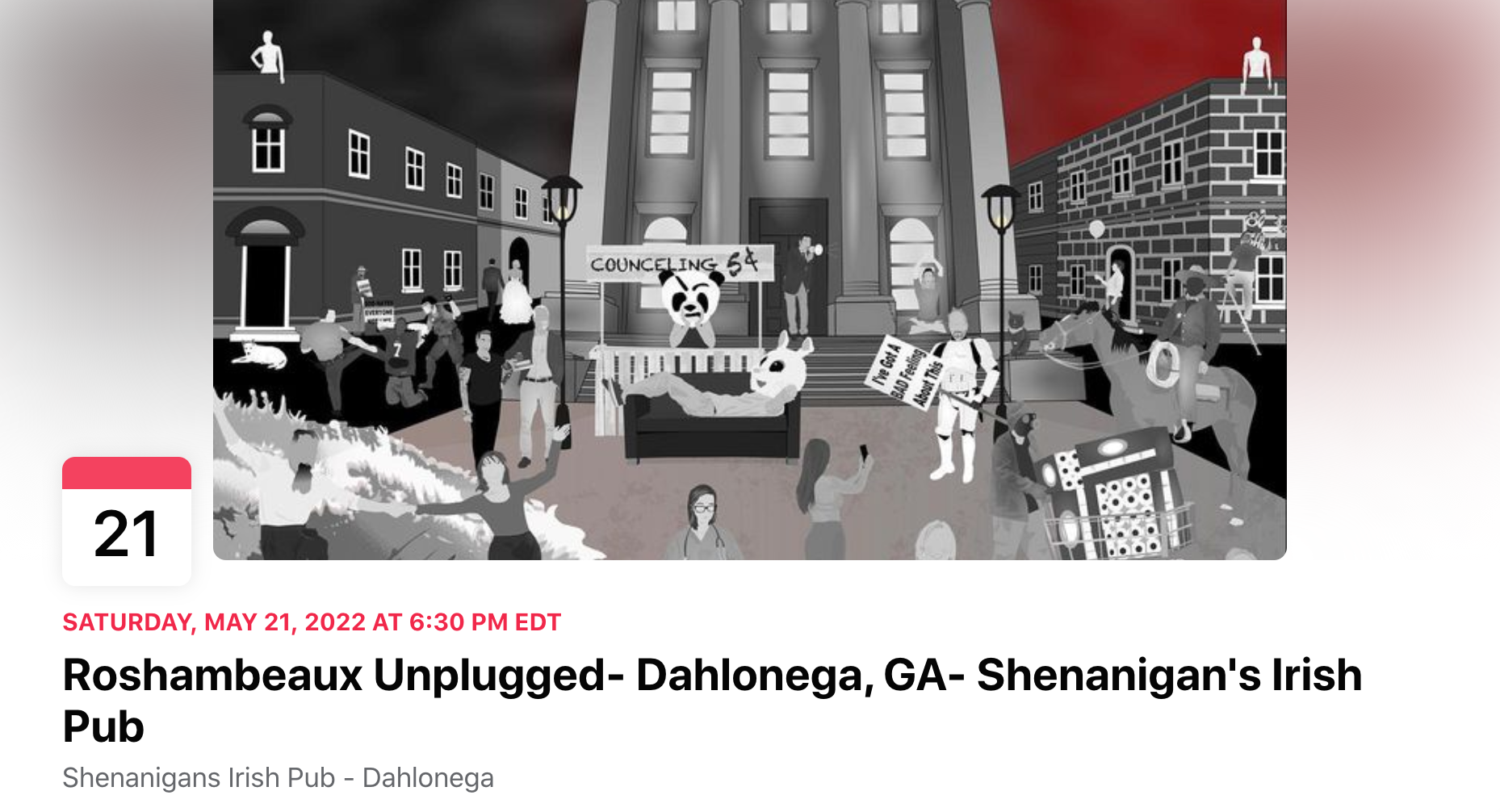 Hey RoshamFAM!
We're pumped to tell you the details on this week's show but first we want to give a shout out to everybody on Patreon.
Thanks to: Special Thanks To:  JT Villian, Christene W, Rachel E, Jeff C, Jimmy J, Sherry S, Andy K, Bill H, Phyllis F, Nadia M, Elvin B, Steve B, Nancy B & Renee T
If you enjoy what we do and it's helped make you're day or night better, consider joining us on Patreon. We love making sure the majority of our content online is free so with your help we're able to keep going. Join us at patreon.com/roshambeaux
Last Week...
Last week was a busy week! We released a brand new trailer for our version of Stone Temple Pilots "Big Bang Baby." It will be out next Fall but you can watch the full on Patreon right now.
We also had shows it Chattanooga TN & Anderson SC. We've seen a few videos floating around from the show in the RoshamFAM Facebook Group so if you're not in there, go check it out!
This Week...
This week we have a chill local show in Dahlonega, GA. We say it's "unplugged" but with us it never really is. We don't really have a word for it but words like "relaxed, raw, scaled-down" and "intimate" come to mind. Come tell us what you think.
Roshambeaux "Unplugged"
Dahlonega, GA @ Shenanigans Irish Pub
Saturday 5/21/2022 @ 6pm
All Ages, Free, Outdoors (bring a lawn chair)
Food and beverages will be available for purchase
Join the official Facebook Event HERE
What's Up With J...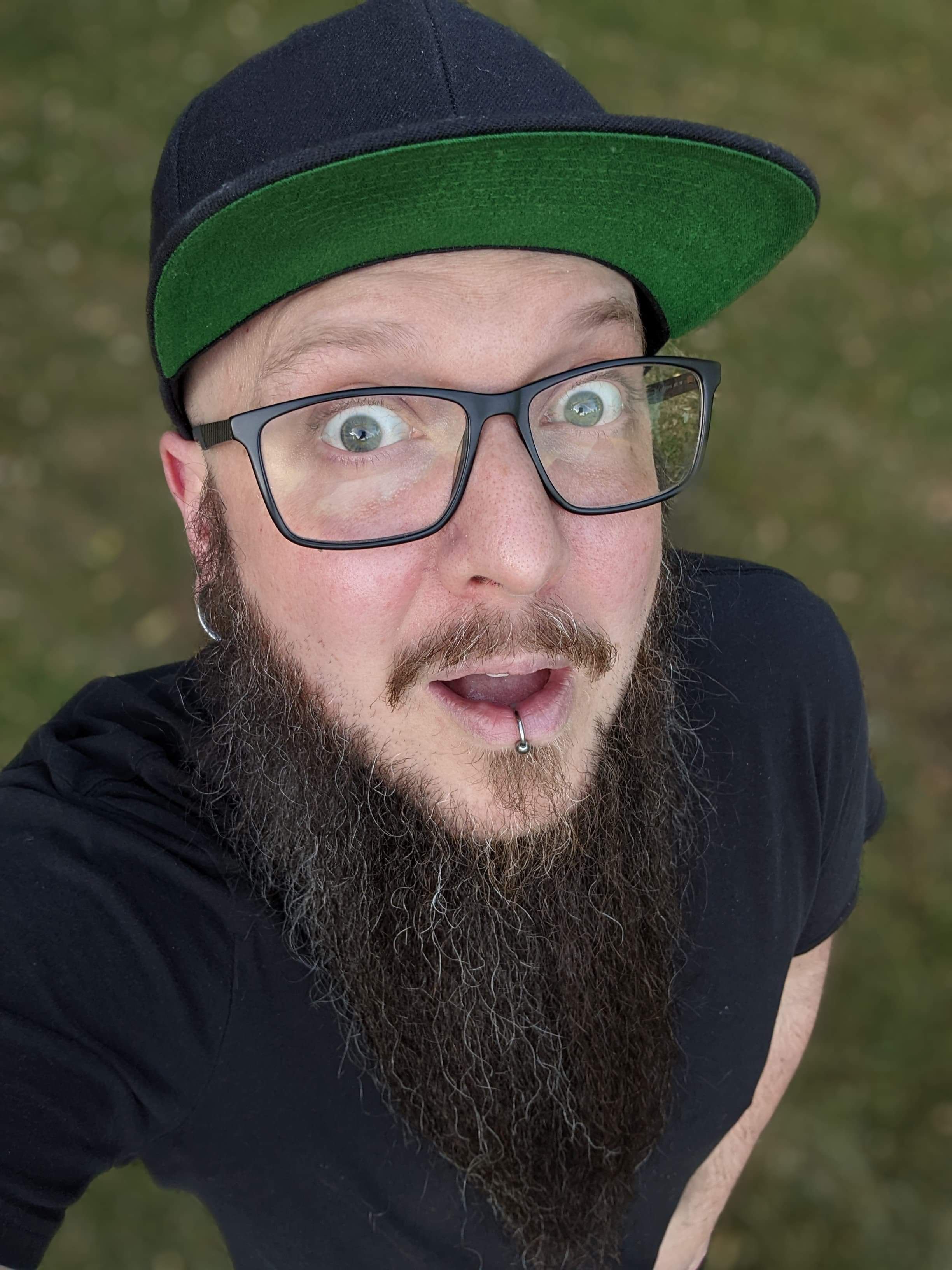 Kyle and I both had a great time this weekend and with that came a reminder of why not to feed into the anxieties. Before we leave we both seem to share the same feelings of worry and doubt. But doing what we do and performing our songs for people is not only a way we express ourselves to the world but what truly makes us feel alive. The feeling we feel from stage when we can all in the room truly connect is such a magical occurrence. Sparks just seem to fly. I am truly grateful for all of you that traveled to see us. You really made our weekend. You guys mean more to us then you'll ever know. I'm also grateful for all the new people we met on our travels this weekend. We hope to see you guys again soon. Now that we are back home we've been reflecting on how we wanna move forward post pandemic to give, express and perform to the best of our abilities. The future can sometimes seem scary but I know it's gonna be even better than before. It's really something to look forward to. As always, to anyone who reads this, I love you very much. Hope all of you have an amazing week. -J
What's Up With Kyle...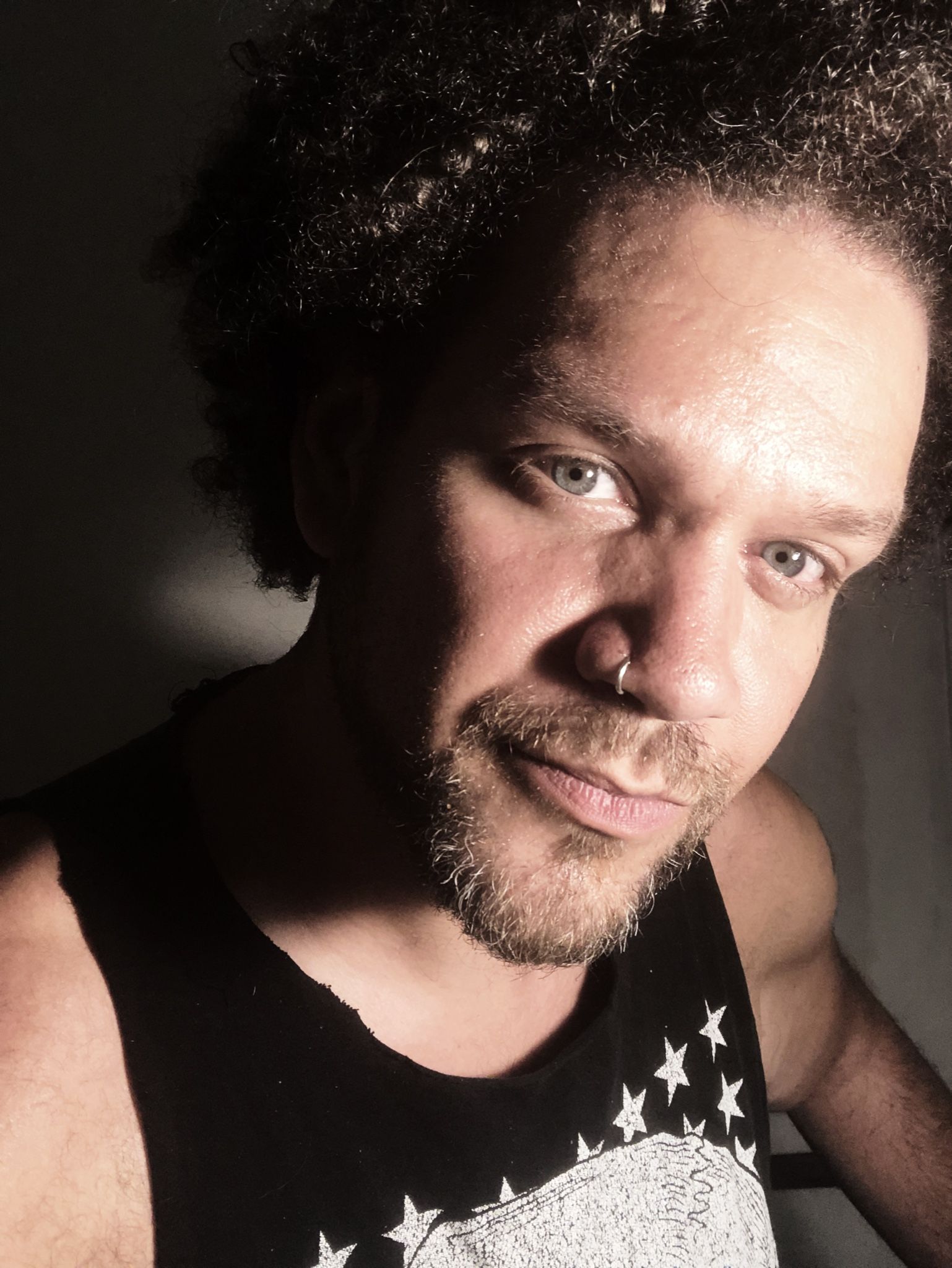 It was refreshing to get back on the road last week. We definitely had some magic moments and even some awkward ones (which honestly, make for the best stories). Y'all were so much fun! Thanks to everybody that came out and traveled to see us. It was really good to see you!
This week, we've picked out another song request from Patreon and we're getting ready for another "unplugged show" this Friday. We say unplugged but with electronic music it's never really totally unplugged. Maybe we should just say "different." I'm really grateful we still get to play. We took it for granted before the pandemic. Going forward, music looks a lot different now and even a little frightening but that's how music is and I wouldn't have it any other way. A good day is when you ask yourself in the morning "What the Hell am I doing?" and at night you say, "That!"
-Kyle
Tune in Thursday!
We'll be back with another exciting topic to chat about! Last week we took a break from our weekly podcast to prep for some out of town shows HOWEVER, we did record a very special version of Van Philosophy called "In The Van," where after a show driving home we pick a topic to help keep us awake. We'll let you know when it posts! Tune is this Thursday on our YouTube channel for a new studio episode of Van Philosophy. Can't wait to chat with you!
Merch!